Sleep is an absolutely vital and important aspect to our daily lives, it is what helps us to function and allows our body to repair itself, ready for the next day.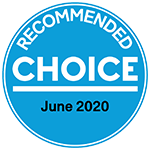 You can now get an even better nights sleep with, The Emma Original Mattress… Designed with care for your very own comfort!
Founded in the German city of Frankfurt, in 2015, the Emma brand was born. The brand endeavours to deliver a better sleep experience to people from across the globe, having now expanded to over 21 countries and 5 continents. Emma has been named as the fastest growing start up business in Germany and in Europe, also having won numerous awards in nearly every country they have a presence in.
What's so special about The Emma Original Mattress?
The Emma Mattress has been made with you in mind, with the latest foam technology mattress experts have created a mattress that can suit every body type and all sleeping positions. The Emma Original Mattress has also been cleverly designed to provide you with an optimum amount of body support, pressure relief and comfort, of course.
Full Body Support:
Designers have used an advanced zoning technique to keep you supported at all times throughout the night, in all of the areas you need it the most. The carefully crafted, three-layered mattress core has the ability to adapt to any body shape, and to help align the spine and contours your body. This means that you can now sleep happier in any sleeping position you desire or dream of.
Pressure Relief:
The innovative, high quality foam, has been designed to work cohesively in distributing all pressure evenly across the entire mattress. The original three layered mattress offers you pressure relief when you sleep in all areas needed, this is thanks to advanced motion isolation. You will now fall sound asleep… even if your partner is a lively sleeper.
Breathability:
The foam used in the Emma Original Mattress is eco-friendly, made from natural materials that help you to stay cool and comfortable all night. The materials used have the ability to keep all moisture away and will prevent you from getting too hot at night. The Emma high-quality cover has also been designed specifically to support perfect air circulation.
"Great deal… Great sleep! I truly enjoyed laying on the mattress and feel like my sleep has vastly improved so far."
The Emma Original Mattress features an incredible Climate-regulating elastic cover, that fits snuggly and securely around the mattress, as well as a Breathable comfort cover that has been designed with anti-slip elements for underside traction.
The mattress comes with a guaranteed 100-night trial, to find out whether or not this mattress is the perfect one for you! If you do decide that The Emma Mattress is just not quite right then you can send it back to Emma for free. Each Emma Original Mattress comes with a 10-year warranty, ensuring the longevity and quality of the mattress core. You don't have to worry about paying to get the Emma Original Mattress directly to your home doorstep, as each Emma Original Mattress is delivered quickly, free of charge.
The mattress features an easy and practical unboxing, suitable for anyone to unpack… First take Emma out of the delivery box and lay the mattress on a flat surface, to roll it out. Next, cut off the plastic wrap with the handy cutting tool Emma has enclosed. Finally, go ahead and stretch out your new, beautifully fresh mattress… it is reccomened that you let your Emma Mattress breathe… after all fresh air is good for all of us!
The Emma Original Mattress has been made in mind for you, with the finest German cutting edge technology. The Mattress is unlike any other, made from eco-friendly materials that are chemically free, whilst featuring a cool and breathable surface material that will have you sound asleep the entire night, a removable, machine washable cover and is ideal for all body types. Get the greatest night's sleep with The Emma Original Mattress, Tonight!
For more information please visit: https://www.emma-sleep.com.au/shop